Notice
: Undefined property: stdClass::$facebook in
/usr/local/web/htdocs/betc_genpop_prod/www/site/application/views/scripts/article/index.phtml
on line
173
Notice
: Undefined property: stdClass::$twitter in
/usr/local/web/htdocs/betc_genpop_prod/www/site/application/views/scripts/article/index.phtml
on line
174
Notice
: Undefined property: stdClass::$linkedin in
/usr/local/web/htdocs/betc_genpop_prod/www/site/application/views/scripts/article/index.phtml
on line
175
Notice
: Undefined property: stdClass::$instagram in
/usr/local/web/htdocs/betc_genpop_prod/www/site/application/views/scripts/article/index.phtml
on line
176
'UNSILENCED'
Une collaboration inédite entre le groupe Haute et le danseur Billy Read pour l'association La Parole Aux Sourds.
AWARDS
Site of the day
Site of the day
Mobile Excellence
Cannes Lions - Bronze - Direct
Eurobest - Bronze
Cristal Festival - Silver
The One Show Awards - Bronze
UN CLIP VIDEO QUI DISSIMULE UN MESSAGE FORT
Ce projet novateur apparaît à la première lecture comme un clip pour un morceau purement instrumental. Ce n'est qu'à la fin de la vidéo que les spectateurs réaliseront l'ambivalence du film : tout au long du clip, le danseur en réalité sourd était en train de chanter les paroles de la chanson en langue des signes. Les spectateurs sont alors invités à se rendre sur Unsilenced.fr, où une expérience digitale interactive produite par General POP leur révèlera les paroles cachées derrière ses mouvements.
En « activant le son » du film produit par Insurrection, les utilisateurs découvrent ainsi le message dissimulé derrière la gestuelle du danseur.
Notice
: Undefined property: stdClass::$url_rectangle in
/usr/local/web/htdocs/betc_genpop_prod/www/site/application/views/scripts/article/index.phtml
on line
206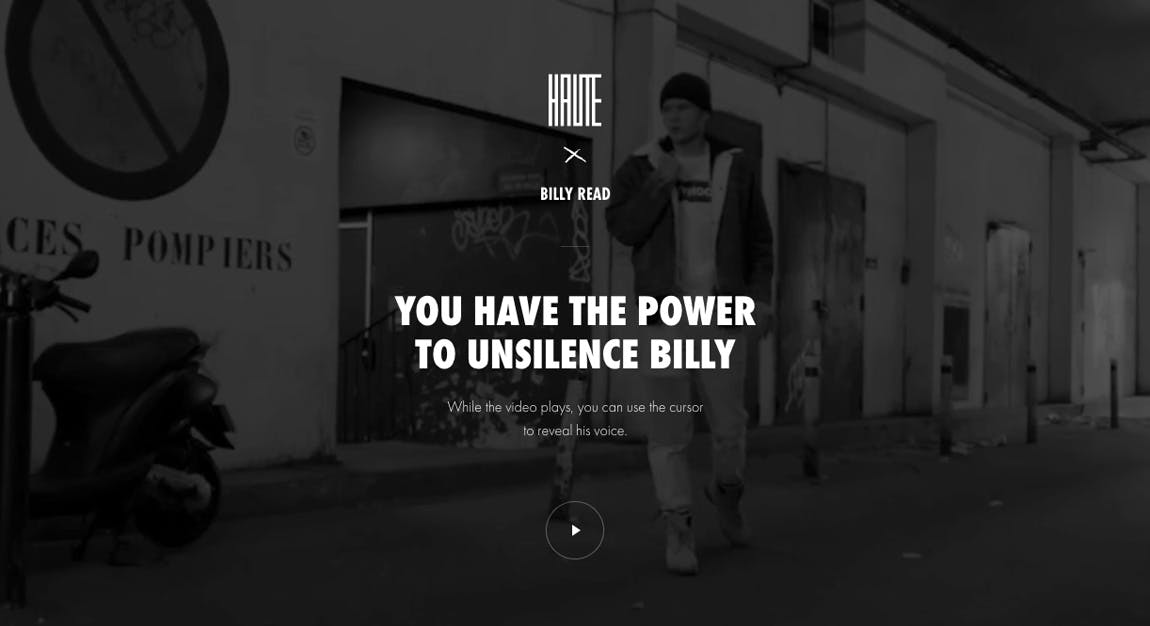 LA MUSIQUE
La composition du morceau d'Unsilenced est le fruit d'une collaboration unique entre le groupe d'électro-pop Haute et le danseur sourd Billy Read. Read, qui a perdu l'ouïe à cause d'un cas grave d'otite lorsqu'il avait 3 ans, a travaillé avec le groupe pour écrire et traduire les paroles de la chanson en langue des signes et en mouvements de danse avec l'aide d'un interprète.
Read, qui utilise son sens du touché pour ressentir le rythme de la musique, disait à propos de cette danse que « le plus difficile dans la performance d'Unsilenced était le fait que [ses] mains chantaient pendant que [ses] pieds écoutaient le rythme ».
« Composer pour le projet Unsilenced était un grand plaisir pour nous. Le projet nous a donné l'opportunité d'explorer nos capacités en tant que compositeurs dans un contexte qui nous est inconnu, celui d'écrire pour un danseur et une personne qui perçoit la musique différemment de nous. » HAUTE
UN EXPERIENCE INTERACTIVE ET UNIQUE EN SON GENRE
Afin de sensibiliser l'utilisateur aux obstacles que rencontrent les personnes sourdes au quotidien, le clip met en scène Billy, un danseur professionnel sourd, qui, à travers une chorégraphie envoutante, raconte une chanson en langue des signes.
Pour comprendre les paroles, l'utilisateur est invité à « unsilence » Billy, en engendrant l'apparition de vagues faisant discrètement apparaître les paroles en synchronisation avec la musique du clip signée du groupe Haute. L'interaction place l'utilisateur devant un constat sans appel : la nécessité de renforcer les liens entre les personnes sourdes et les personnes entendantes.
" Unique en son genre, Unsilenced est le premier morceau dont les paroles sont entièrement chantées avec une combinaison de langue des signes et de danse."
Notice
: Undefined property: stdClass::$external in
/usr/local/web/htdocs/betc_genpop_prod/www/site/application/views/scripts/article/index.phtml
on line
224
« Le film est censé être surréaliste. Nous voulions traduire à quel point c'est étrange quand personne ne parle votre langue. », explique le réalisateur Alban Coret sur son utilisation des effets spéciaux dans la vidéo. Cette dernière a par ailleurs été produite par Insurrection Films, la maison de production derrière les clips primés d'artistes tels que Travis Scott, Drake et Alt-J.
L'ASSOCIATION
La Parole Aux Sourds est une association à but non lucratif basée à Paris. Elle œuvre pour faire entendre la communauté sourde en organisant des cours de langue des signes et en lui apportant son soutien via du e-learning, des ateliers et des entretiens personnalisés.
Tous les fonds récoltés par Unsilenced seront utilisés pour le développement d'un programme d'e-learning de langue des signes La Parole Aux Sourds qui s'ouvrira en Septembre 2018.
Notice
: Undefined property: stdClass::$url_rectangle in
/usr/local/web/htdocs/betc_genpop_prod/www/site/application/views/scripts/article/index.phtml
on line
206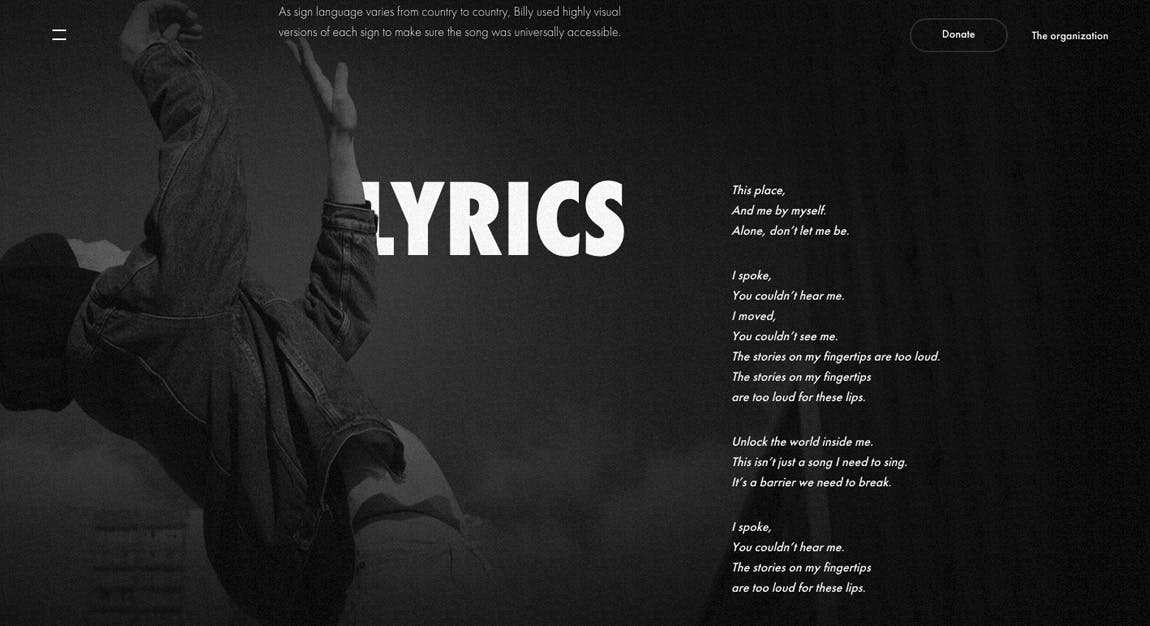 Notice
: Undefined property: stdClass::$label in
/usr/local/web/htdocs/betc_genpop_prod/www/site/application/views/scripts/article/index.phtml
on line
262
Notice
: Undefined property: stdClass::$label in
/usr/local/web/htdocs/betc_genpop_prod/www/site/application/views/scripts/article/index.phtml
on line
262
Notice
: Undefined property: stdClass::$label in
/usr/local/web/htdocs/betc_genpop_prod/www/site/application/views/scripts/article/index.phtml
on line
262
Notice
: Undefined property: stdClass::$label in
/usr/local/web/htdocs/betc_genpop_prod/www/site/application/views/scripts/article/index.phtml
on line
262
Notice
: Undefined property: stdClass::$label in
/usr/local/web/htdocs/betc_genpop_prod/www/site/application/views/scripts/article/index.phtml
on line
262
Notice
: Undefined property: stdClass::$label in
/usr/local/web/htdocs/betc_genpop_prod/www/site/application/views/scripts/article/index.phtml
on line
262
Notice
: Undefined property: stdClass::$label in
/usr/local/web/htdocs/betc_genpop_prod/www/site/application/views/scripts/article/index.phtml
on line
262
Notice
: Undefined property: stdClass::$label in
/usr/local/web/htdocs/betc_genpop_prod/www/site/application/views/scripts/article/index.phtml
on line
262
Notice
: Undefined property: stdClass::$label in
/usr/local/web/htdocs/betc_genpop_prod/www/site/application/views/scripts/article/index.phtml
on line
262
CREDITS
Production du site
General POP - Studio Digital